When I was invited to co-host the 2015 365 Day Light Play Challenge, I was really excited. As you know, photography is the capture of light. Without light, there would be no photographs. My manipulation of light is what makes an image unique.
And this 365 Day challenge is just that. Manipulation and experimentation with light through play. While I know 2015 is a ways off still, I'm excited about being able to start documenting light play through photographs (probably on Instagram).  And if you're reading this and thinking, "wow, a photo a day, that is intense!" Don't worry.  This challenge isn't a by the book kind of thing.  It's more about committing to a year of light play — if you do it several times a week instead of daily, no big deal.  Or, if you just want to follow along and see what everyone is doing for the light play challenge, you can do that too.
To participate, just share your photos with these hashtags: #LightPlayChallenge or #ULTG (Ultimate Light Table Guide).
But, what exactly counts as light play?  Well, if you can relate it to light, I bet it counts.  Light play can be:
Light table / Light box play
Overhead Projector play
Glow in the dark play
Black Light Play
Natural Light Play
Light and Mirror Play
As I mentioned before, feel free to participate as you are able, or just observe from the sidelines – there is no wrong way to do this light play challenge.You can start early, or join in the fun after January 1st.
What about the photos?  There are no requirements.. They do not have to be complex or difficult. Just a snapshot of anything you and your kids are doing that pertains to light play somehow; the photo can be new or old…. you get the idea?  Anything goes!  Plus, in December 2015 there will be a contest to end the challenge and bring in 2016.  How exciting is that?
Be sure to visit my fabulous co-hosts:
If you have a blog, you can grab the button!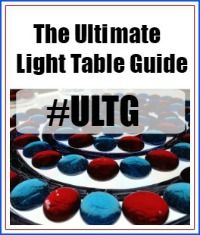 Join the board to post your light play photos. Email lighttableguide@gmail.com to be added to the board. No blog necessary, just a Pinterest account and your daily light play challenge photos!  Old or new light play photos welcome in this challenge!
There are hundreds of examples on the board linked below.
Follow Kristen (Caution! Twins at Play)'s board Light Tables, Light Boxes, Light Panels & Light Play on Pinterest.